Webster's third new international dictionary and seven language dictionary
Altro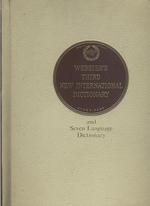 Data uscita

Aprile 2018

Condizioni

near mint

legenda
MINT ma Copertine con lievissimo scurimento

Copie disponibili

solo una copia

Venduto da

BCLibri


bclibri@delosstore.it
Autore

Collana



IN LINGUA INGLESE - 3 VOLUMI (grandi dimensioni cm.32 x 24) CARTONATI per un totale di 3135 pagine CON TITOLI IN ORO -
Merriam-Webster's Ongoing Commitment
Merriam-Webster's commitment to innovation and scholarship began with the publication of its first dictionary in 1847 and continued with the 1859 publication of a revised and enlarged edition. The 1859 edition was the first American dictionary to include pictorial illustrations; it also featured a supplement of new words and explanations of the distinctions among synonyms, all improvements that made the dictionary more useful than ever before.

Dictionary making at Merriam-Webster has always been an ongoing process. Even as the 1859 edition was being published, editorial work on a completely new edition was under way.

In 1864, under the editorship of Noah Porter, An American Dictionary of the English Language, Royal Quarto Edition, Unabridged, appeared, featuring a vocabulary three times that of Noah Webster's original 1828 edition. Webster's Unabridged, as the 1864 edition was called informally, soon increased the company's prestige even further. Governments, publishers, schools, and even the Supreme Court of the United States followed Webster's.

A revision of Webster's Unabridged containing a biographical dictionary was published in 1878, and another edition, this one with a dictionary of place names, appeared in 1884.

Editorial work for Merriam-Webster had always been performed by distinguished scholars, and by the 1870s a small, permanent staff had been established. The Merriam brothers believed that retaining such a staff would ensure that the voice and style of Merriam-Webster dictionaries would have continuity and consistency. That belief still drives the company, which boasts the largest group of working lexicographers in North America.

The 1890s saw the introduction of two classic trademarked Merriam-Webster dictionary series, works that still form the foundation of the company's product line: the International and the Collegiate.

The Merriams recognized that English was used worldwide and that Merriam-Webster references could serve people all over the globe. To reflect this global outlook, Webster's Unabridged was officially renamed Webster's International Dictionary, Unabridged, with the publication of the 1890 edition. That impressive new volume contained 175,000 entries—56,000 more than the 1864 edition—and covered a vocabulary that reflected the accelerating pace of change in society at the end of the nineteenth century.

Webster's International Dictionary was an enormous achievement—and a big, heavy book. The company recognized that there were times when such a large volume was impractical, so in 1898 it introduced Webster's Collegiate Dictionary as a compact and convenient reference intended to meet the needs of the general reader and especially the college student.

Since they were first released, Webster's International Dictionary and Webster's Collegiate Dictionary have been updated and revised many times. New editions of the unabridged appeared in 1909 (Webster's New International Dictionary), 1934 (Webster's New International Dictionary, Second Edition), and 1961 (Webster's Third New International Dictionary).